.
.
Welcome to today's "Journal It"
"Journal It" is where you can find help with journal inspiration or where you can find a quote that you can use on about on almost ANY layout. I hope this will help to inspire you. You could use the prompts in many different ways... you might use the prompt on your layout and stop right there, you may not
need
to journal more... Whereas other times these prompts might inspire you to write about something even deeper. Feel free to check out this weeks prompt below. If you missed any, you can check out any
previous prompts
too.
Be sure to check in
each Monday
for a new journaling prompt!
---
I'm so excited for this weeks journaling prompt inspiration...
Back when I paper scrapped, I always finished my kid's scrapbooks with a picture of them and I paired it with a poem. Yep, I always paired it with the very same poem at the end of each book. It was a poem I found in the book, "The Ultimate Guide to Celebrating Kids", who based it off of a poem written by: Elizabeth Barrett Browning.
I just felt it summed up my love for them and I would get teary each time I read it.
I hope this poem inspires you just as much.
How do I Love You...
let me count the ways
i love you for this minute
and all the rest of my days.

i love you with our heart,
and know that it is true.
there is no greater joy,
than the love I have for you.

i love you as a baby,
and every day to come
you are the greatest blessing
so awesome, and such fun.

forever I will love you
and hold you close to me.
for all you are is everything
a mother could ever need.

I love you with a love so grand
and treasure every day
when you reach out your little hand
we'll make memories, we'll play

for in his infinite wisdom
God brought our love together
a lifetime isn't enough
Thank goodness we'll have forever.
This weeks Journal It prompt is:
How Do I LOVE You (Let Me Count the Ways)
You could:
1) Add this poem on your page... and just these words will create so much emotion! OR 2) Use How Do I LOVE You, Let Me Count the Ways as a title OR 3) Use it as a title and journal about a few different reason that you love your child, significant other, or heck... your morning coffee.
See where this could take you?
Here is the layout that I did:
Hopefully this poem inspires you!
FREEBIE TIME!!
Here
is the piece of word art that I used in my layout.
Feel free to use it on one of your layouts.
Want to see how the prompt inspired others?
gevisacri
pne123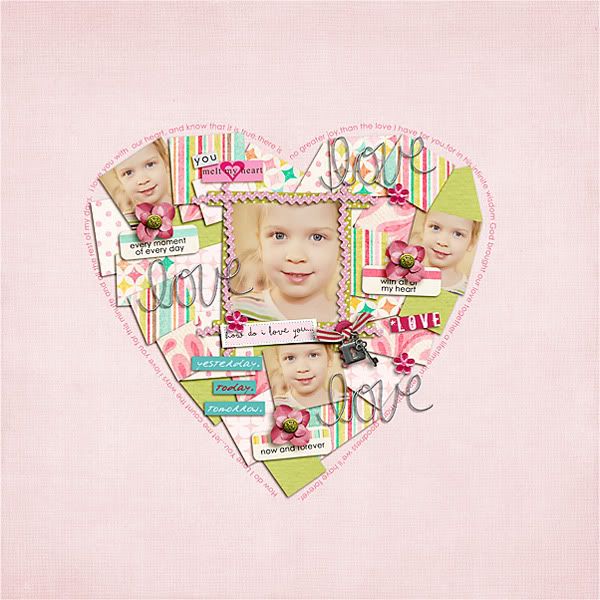 I'd LOVE to see if you decide to play along with me...
feel free to link your layout in the comments section.